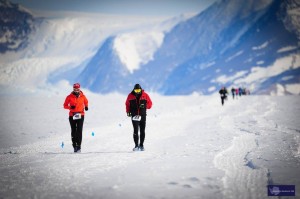 After a journey of some 20.000 km from Poland and Danmark via Madrid, Santiago and Punta Arena in Chile Signe Simonsen and Jesper Floyd Kristiansen could finally November 23 enter the freight flight from Punta Arena to Union Glacier on Antartica.
The start of the 2016 version of Antarctic ICE Marathon was delayed one day due to weather condition. At noon on November 25th the start took place.
It was a fantastic sunny weather with a temperature about minus 20 and only a minor part with very strong wind.
After some kilometer it was very clear that running in the amazing nature of Antarctic would not only be cold but also like running in deep sand. After the first 15 km the two Bornholm Runners were in the first part of the 50 runners but the last 27 km would be a long journey against the cold and hard nature.
7 hours and 2 minutes after the start Signe and Jesper with the Danish flag between them could finally run over the finish line. Immediately after they received the medal for the Antarctic ICE Marathon but the emotions were mainly due to the fact that they both knew that the membership of the 7 Continent Club finally was obtained after many months of training and running marathons in the other 6 continents.
During the trip to Antarctic the two members of Bornholm Runners met many new friends with whom they for sure will keep contact for the next many years. The winner of the women race were Polish Joanna Medras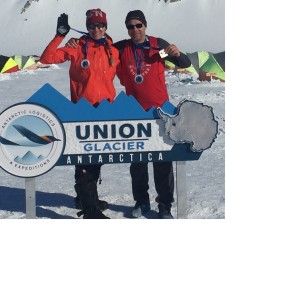 November 26th Signe received as the first Danish woman the medal of 7 Continent Marathon Club and next Jesper received the similar as the 3rd Danish man. Bornholm Runners had on this day got two new runners who have been running marathon on all 7 continents!!
The Antarctic ICE Marathon was also used to raise money for Gdynia Children Hospice. The exact amount is not yet known but will be informed here on this page when it is finally calculated.
We will also update the Gallery with some pictures from the run where the flying in cargo flight, the landscape, the run and the many  nice new running friends will be shared with friends of Bornholm Runners.