* Tenzing Hillary Everest Marathon May 2018
*Antarctic ICE Marathon November 2016
*Adventure Marathons: First ever Bagan Temple Marathon, Myanmar 2013 &
*Polar Circle Marathon 2012
Jesper finished the World Highest Marathon
After some 12 days trekking in Himalaya it was on May 29th 2018 time for him to run the Tenzing Hillary Everest Marathon.
He had during the trekking in amazing landscaped got used to the 5368 meter altitude at the Everest Base Camp.
Here is his story and some nice pictures from the event.
The Tenzing Hillary Everest Marathon consist in fact of:
Kathmandu – Capital of Nepal
Trip to Lukla
Trekking – 12 days from Lukla to Base Camp
The stay at Base Camp
The World highest Marathon
To get down from finish area and back to Kathmandu
Kathmandu:
On May 13th 2018 Jesper arrived to Kathmandu in Nepal.
Two days of sightseeing by himself and here enjoying Thamel where the last shopping for the trekking was done.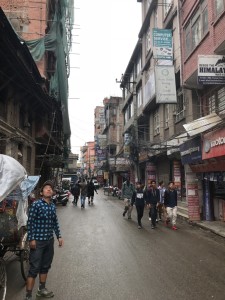 In Thamel you find a lot of trekking items but also many small and nice dining places. The lack of solid surface on most roads on other side makes the area very dusty!
On May 15th it was time for the first briefing and also to say hello the Team A 25 participants – runners from all over the World.
During the briefing we received our running start number and the official t-shirt.  We also got our first surprise – it was mention that each person only could bring 15 kg of luggage to the trekking and not 15 plus own backpack.
May 16th we started with more deep briefing and the 15 kg was confirmed.
We went out for a Kathmandu sightseeing and especially the Pashupatinath Crematorium area was quite a cultural chock for most of us. Here we saw people who died during the night being burned in front of us and next to the river.
The evening was reserved for repacking the special Everest Marathon bag and the backpack.Several time down in front of the hotel to check the weight. Quite some of my gear I expected to use for trekking were simply to heavy and could not go with me. Luckily I had Newline International as a sponsor of some nice and not heavy cloth so by deciding using that for most of the trekking I finally ended just over 15 kg and time to sleep
Trip to Lukla: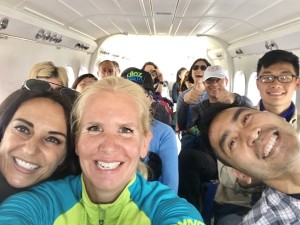 May 17th wake up call at 3.30 and at 4.00 am we left the hotel with direction towards the airport. We all knew that weather at Lukla airport is a challenge so in fact not surprised that we first were delayed some 4 hours and then our first attempt to land was cancelled some km from Lukla. Back and re-fulling and then trying again – this time with success. We could start focusing on our next 12 days trekking.
Trekking Lukla to Base Camp:
May 17th evening until May 27th was our trekking time. Lukla is placed 2860 meter over sea level and our destination Everest Base Camp in 5368.
The trekking was organized with 2 days trekking and then one day acclimatization – where we stayed at the same lounge as day before but went upwards in altitude and then back down. All this to ensure as smooth adjustment of our bodies to the high altitude.  In our trekking agenda all days was mention with trekking hours (never a word about how many kilometers which you as a marathon runner mainly think about. There is a reason for this – every trekking day is a constant climbing up and down so it might take long time but in fact you don't move that many kilometer.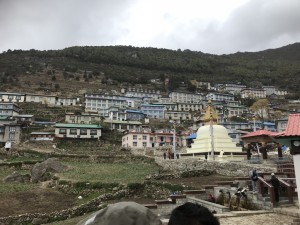 During the trip we passed amazing landscape and our first trekking destination was Namche Bazaar. Beside being situated as a C-form on a mountain in 3440 meter over sea level it would also be where the finish of the later marathon would be. We had therefore our first Acclimatization here and we had a chance to run the last 5 kilometer of the marathon during the relax day.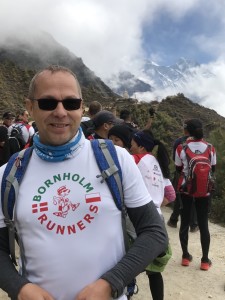 In fact the idea of trekking the opposite direction of the later marathon is a great idea as it gives the participants an unique chance to see the incredible landscape on the trekking days where you move slowly upwards.
May 20th to 22nd we were trekking via Khumjung (where we also visited a local school and Monastery – here I felt for the first time quite a hard headache, first sign of the altitude impact), Tengboche (here we had to walk down 500 meter in altitude during very short distance and followed by similar going up – most participants here start to be serious worried of the coming marathon run the opposite direction). Tengboche (3860 meter over sea) is also the village with the Marathon time cut point. After running some 32 km we have to pass this village in less than 9 hours.
Generally one major challenge during the trekking part beside constant walking up and down stony roads with risk of twisting your feet was the sleeping or rather lack of same.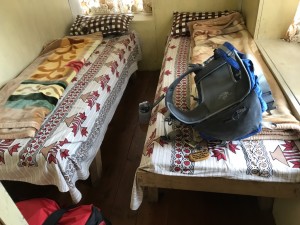 To deal best possible with the altitude we should drink preferable 4 liter liquid per day. That means also often visit to toilets. The lounges we stayed at was none heated meaning temperature during night was around or below 0C. Therefore the sleep never was long and divided into many small pieces. The sleeping rooms was basics and we kept the warm in our sleeping bags by putting our hot water containers into the sleeping bag. This way we could keep quite warm inside the bag.
Also the lack of hot water at most of the lounges is a challenge you have to be prepared for. That means several days without a shower even after a long and sweeting trekking day.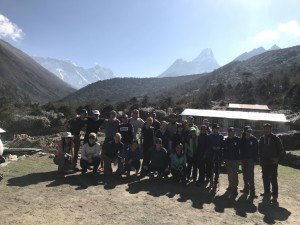 At our lounge at Tengboche we had in the morning an amazing view towards Mount Everest and it was time for a group picture.
Then moving forward towards Deboche to Dingboche. On our way to Dingboche we reached the tree level and when no more trees the dust challenge became bigger especially when we were passed by one of the many animal convoys.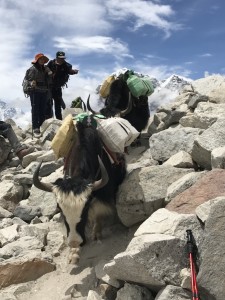 Especially the Yak "trains" is an incredible experience. When a Yak train come towards you it is to escape towards the mountain side: Yaks has quite big and wide horn and if they move their head you don't want to be nearby. To see how they are able to move in the mountain of Himalaya with huge weight of goods you can only be impressed. They move slowly and constantly. Even they cross the huge swinging bridges with no issues.
Arriving to Dingboche (4400 meter over sea level) the remaining of us were instructed to start taking the altitude medicine. When start to take the altitude medicine you should also add another one liter of liquid to the daily requirement = meaning extra visits to the toilet during nights. The medicine also give you a strange giggling feeling in your feet and hands – that is one of the signs that it works.
Dingboche is also the village of start of Everest Half marathon. For us running full marathon the distance from Dingboche to Base Camp is only around 15 km why in connection to Dingboche the marathon route has an extra slope of 6 km. On our acclimatization day we therefore went out on the slope and 3 km out we could run back if we wanted. I had some stomach troubles since the day before so only walking back was an option. In the afternoon I just read a book on my Ipad and visited a local café with some of the other participants. It was like the fact being at the half marathon point somehow again got your focus back to the soon coming Everest Marathon and in your head you just try to imagine the trekking routes you have walked soon will be your running route!
During the trekking the food is an extra experience. Since meat has to be transported from Kathmandu and by the distance and fact that it need to be transported by Sherpa or on the back of an animal you don't really get any meat during the eating from Namche Bazaar and upwards. Due to hygiene situation (limited access to warm water) you also try to avoid not boiled vegetables. What remains to eat is then potato with pasta, or rice with potato etc. The food together with the challenging trekking is indeed a good diet.
The day after acclimatization and a night hardly without any sleep it was time for trekking towards Lobuche. On our way we passed the area of memorial site for the mountain climbers who lost their life in Himalaya. As it was foggy, rain the entire atmosphere became even more hard to understand.
When arriving to our lounge in Lobuche we had to get out of our wet inner cloth as temperature in the lounge was really low and risk of being ill was big.
During night the temperature inside our room was below 0 C so I slept with some of my trekking cloth to keep warm and of course the warm water bottle in the sleeping bag
We had now reached May 25th and it was time to trek towards Gorakshep – the last lounge before we would move into Everest Base Camp. The trekking from Lobuche to Gorakshep is a challenging part with solid climbing and due to altitude you have troubles to breath and it was good the Sherpas walked us slowly upwards.
On the other side of course climbing upwards also gave even more incredible mountain view.
We had some photo session with our amazing photo team Mr. Anuj Adhikary and Mr. Aayush Bista. It was a great benefit to have the official photographer team with us at our group as we could get some real cool pictures.
Here are some pictures taken by Anuj Adhikary of me doing tests run in my sponsored cloth from Newline International. Cloth which was extremely good to wear as they dry almost immediately after being wet by rain and sweat
The photographer also took a picture later when I was using a moment alone to enjoy the view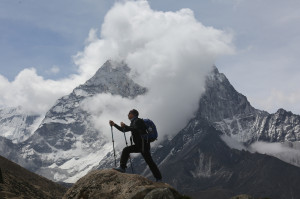 Pictures which for sure will be very important memories for me from the trip.
After a 3 hour trek we finally came to our lounge at Gorakshep and with its 5200 meter we could feel the altitude.
The lounge was in the worst condition so far on our trip. Beside no heating also the windows and doors were not tight – meaning you could really feel the cold wind when you were in your room.
In the afternoon we made a half way up climbing of the Kala Patthar mountain to be ready for the following days climbing to the summit.
It was a really hard exercise and having in mind we should up at 4 am the next morning we went all early to our beds. I had very weird dreams (normal when taking altitude medicine and being in high altitude) and this together with the cold visit to toilets made a long night.
Sunday 26th we started climbing the Kala Patthar mountain already at 5.00 am to ensure best possible chance to see Mount Everest from the top. Mornings have normally better viewing than later during the day.
I went slowly and constant towards the top and at just around 7.00 am I was the first to reach the summit of our group. Summit is in 5540 meter and it was the first ever mountain summit I finished. It was a great experience and got taken some very nice pictures.
After enjoying the view for some time it was time to climb down again. At 9.00 am I was ready for breakfast.
Here we got the information that we should repack our luggage two and two. This way one bag the next morning could head down towards our finish line and the second one would go to Base Camp. I was here put together with Ahn from Vietnam.
We were not sure we would manage but by only packing our running cloth and add some warm jacket we could fit it all into one bag. That also meant that we would more or less for 2 days be walking and sleeping in our running cloth and of course also be running in it. Since we would have no bath options it really made no difference.
Rest of the day it was relaxing, reading and looking forward to the next day finally would bring us to Base Camp.
In the evening it was time for doctor check. Here my blood pressure had reached 170 while normally at home between 120 and 130 – amazing how the altitude can influence our bodies. Oxygen level in my blood around 80 so that part was good.
The stay at Everest Base Camp:
May 27th we took off and went towards Base Camp. The route to Base Camp in on stones and really not easy to walk surface.
After something like 1 hour trekking we reach the Base Camp sign stone – it is hear regular trekkers can walk to and then have to return. However as Marathon runner we were allowed to trek into the real Base Camp where also the mount climbers has there tents. It is an extra trekking of more than one hour and the surface is getting worse and worse while the landscape more and more amazing
We arrived to our tent base and together with my new tent mate Ahn we got tent number 37.
The tent base was especially made for us and had 3 toilet tents for our use as well as a dining tent with space for around 20 people.
We could during the afternoon see the sherpas coming down from the enormous glacier which brings them and mountain climbers the last part down from climbing Mount Everest.
During the evening and especially during the night we could in our tents hear several nearby avalanches and honestly most of us did not sleep that calm and looked a little extra around when going to toilet during the night
On May 28th we woke up when the kitchen team started preparing for breakfast. It was very cold during the night (some told minus 15C) so even with all our cloth on it was difficult to keep warm in the tent.
After early breakfast it was time to make some "fake starts" for the photographers. This was necessary as these needed to walk down during the late afternoon being able to take pictures from our marathon run and especially the finish of the run.
We made a couple of starts and also pictures and interview for the organizer
Rest of the day relaxing and start feeling the butterflies in the stomach. We were a group of participants who acknowledged that a realistic ending time of tomorrow marathon would be 10 hours plus/minus 2.
Went early to bed and did not sleep much that night.
Tuesday May 29th – Tenzing Hillary Everest Marathon
Nha and I woke up early and as we slept in our running cloth we would be ready for the run as soon we had taken the running number on us.
We therefore went for a light breakfast and then back to our tent to pack the remaining things. At 6.30 we went towards the start line. Here we waited still with our winter jacket on until five minute before start sign where we had to leave our jacket to the sherpas who would then make sure it would go down to Namche Bazaar.
At sharp 7.00 am the start went off and I had agreed to follow with Michael from Australia/UK. We went off in as fast walk as we could due to the surface. After approximately 6.5 km I twisted my right foot and suggested Michael to continue as I needed to check if I could continue or the race was over. After some seconds I could feel the foot swallow in the shoe but when I tried to move ahead it was possible. I know from this stage that if I should have a chance to finish I should be constantly on the move as any break would most probably make my foot stiff.
I went on and pain was doable and since the surface at a certain stage became a little better I could move ahead in a quite good pace.
I passed the Memorial area and soon after I arrived to Dingboche where the 6 km sloop was waiting. This was the second nightmare as I could not recall that the turn point was that high and so far away from Dingboche. Finally I saw the mark and could get my green bracelet indicating that I had passed the check point. On my way back to Dingboche I could see that even after my twisting of foot there were still quite many people behind me. That gave some positive energy and after passing the 21 km point in about 4 hours 50 minutes I knew that there should be very good chances to pass the real time check point (32 km) before 4.00 pm (9 hour). I continue walking the hardest parts and slowly running where it was possible with my foot. At one of the swinging bridge I needed up in the middle of a Yak train so they decided the speed.
Now I only had the last couple of kilometer up to Tingboche – again I realized that there were a part of the trek when walking opposite direction where I forgot how long I had to climb the hill towards the Monastery. I knew of course that Monasteries normally are placed at the highest point but here it went constantly up and up. My lungs were complaining and several times I simply had to stop and breathing like crazy trying to get oxygen enough to continue.
Finally about 7 hours walking/running I could pass the main time check point and also get a piece of chocolate from my bag and a glass of water.
I knew I drank far from enough but the 2 liter water in my backpack was to warm for me to drink and since I could not stop for longer time one cup of water at each water station was what I could drink.
On the other side I knew that from now of there were only 10 km to the finish line. It would be realistic to target the 10 hours. However straight after the Monastery I knew that first I had to climb down 500 meter in altitude and immediately start climbing 500 up afterwards – this part we all agreed would be the hardest part of the entire run. Indeed it was a hell! Climbing was one issue but the dust and difficulties to breath due to altitude is really something difficult to explain non participants. After something which felt like forever I was finally at the top and after some extra kilometers where it went a little up and down I passed the site where we many days ago had the test run when having acclimatization at Namche Bazaar. I therefore realized that in approximately 5 km I would finish successfully this incredible event and on one hand you felt the goosebumps and also some tears in the eyes.
On the last 5 km I had the pleasure of passing some participants and in fact during long time I was not overtaken meaning that I knew I kept a rather acceptable pace.
When passing the first building of Namche Bazaar I stopped, took of my back pack and several of the local people start to run towards me while they explained "come on – you are almost at the finish line". While they say me taking out the huge Danish flag and mount it on one of my trekking poles. When the local kids saw this they were smiling and running with me the last approximately 100 meter and just let me cross the finish line alone.
9 hours 43 minute and 43 seconds after it all started at Everest Base Camp I had finalized the World Highest Marathon and could contact my family back home and confirm I was safe and at the finish line.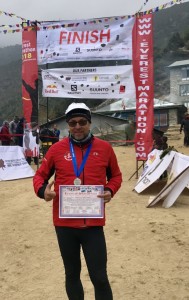 With the diploma in my hand and medal around my neck it was time for the last challenge of the day — walk down to our lodge!
After some 3 hours waiting time for water to be hot I could get a well deserved shower and after that it was celebrating time with the other participants. Short contact to Danish media who called to ask for the result.
The way down from Namche Bazaar to Kathmandu:
One of the evening discussion was about the trekking down to Lukla. We were told that Lukla airport had been more or less closed for several days and that the terminal was "full" of waiting passengers.
Since most of us had pain in the entire bodies we suggested instead of trekking down for two days and then most probably have to face troubles getting from Lukla to Kathmandu we would prefer to pay extra and go by helicopter from Namche Bazaar to Kathmandu. Our tour manager Ricky confirmed he would check the options and that it would result in we stay one extra day in Namche Bazaar. We agreed and the next day was a total relax day with drinking coffee and some beers while waiting for the confirmation of when we could fly out the next day.
Finally we were informed we would have helicopters (5) to pick us up from about 7 in the morning the next day. Since I had really pain in my legs I was on the first ride and the next morning I started to move towards the helicopter airport already at around 6 am.
Weather was beautiful but before it was our turn to take the helicopter heavy fog attacked the village and it was not possible to land or take off. We were waiting until around 10.00 before the weather became better and helicopters again could be seen arriving.
We flew to Lukla and after all being gathered here we could take of again this time to Kathmandu. Later afternoon we arrived to a hotel in Thamel – it was time to take a long hot shower, a late dinner and then back to hotel for yet another hot shower and a sleep in a real bed!!
Next morning we moved back to the event hotel and were relaxing here all together.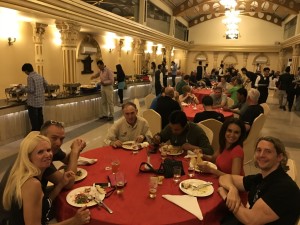 On June 2nd it was the celebration time. Speeches, nice food and some good music. Well I am not so sure how nice we danced with our sore legs but we had for sure a great time within the Team A and we closed the celebrating ceremony as being the only active people on the dance floor.
A long event had come to its end. A new marathon challenge ended but some great new friends were added to the contacts. Friends who for sure will stay as friends forever as we together achived a common goal.
Tenzing Hillary Everest Marathon – for sure the hardest challenge I have done until today but it is for worth my recommendation as the local people, the Himalaya and the trekking and the marathon itself makes it unique.
A special thank to:
My family for "letting me go" and I am sorry for letting them be nervous during the event
The Sherpas who supported our Team A – they made sure our luggage was transported and lead our trekking in a way so we did not get altitude illness. They served us food and tea – as well as made sure the food was made safe for us. They are amazing and warm people
Our tour leader Mr. Ricky Yonzon for his always positive way of being and his entertainment on guitar
Our photographers: Mr. Anuj Adhikary and Mr. Aayush Bista for great time all the way and some amazing pictures
Our doctor Mr. Prajwal Khatiwada who made sure we all got to Base Camp without serious altitude illness
The Team A for a great trip
Newline International for sponsoring some fantastic trekking and running cloth
Antarctic ICE Marathon – part of Seven Continent Marathon and fund raising event
The two members for Bornholm Runners Signe Simonsen and Jesper Floyd Kristiansen went together to run the last of the 7 continent – the last marathon The Antarctic ICE Marathon.
There was a long journey in front of them when they left Copenhagen on November 19th after having flown in from Gdansk and Randers. First stop was Madrid and hereafter the night flight to Santiago in Chile. In Chile they had to connect for domestic flight to Punta Arenas in the very South of Chile. Here they arrived Saturday November 20th in the afternoon.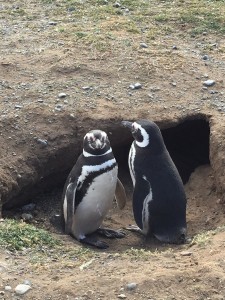 Sunday 21st was a beautiful day and it started for the two runners with a short and enjoyable run along the seaside in Punta Arenas ending up with an amazing dolphin show just in front of them. In the afternoon they went on a boat trip to Magdalena Island where over 100.000 penguins have their home.
To walk around all these amazing animals was the first sign for Signe and Jesper that they were far away from home.
Monday was the day of inspection and approval of the running gear. Hereafter it was time to visit the trip organizer ALE where also the arctic cloth was rented. After first trying some cloth which were far to large they both found what looks acceptable and fur sure would be warm enough. In the evening it was time for run briefing and receiving the start numbers – Jesper no; 23 and Signe no. 40
Tuesday morning there were obligatory briefing at ALE and here they got the information that from now off Mother Nature would decide. It means they can forget about time and meetings appointment agreed for the coming days. ALE informed that one group the year before stayed 5 weeks extra on Antarctic due to weather conditions! Signe and Jesper are chocked but hope for good weather.
The representatives inform that there will be a control weight of luggage at 12.30 and pick up of luggage for the special Antarctic flight. Beside this it was agreed that there would be a new briefing at 19.30 as due to some changing weather conditions there could be a late evening departure instead of morning flight. At 19.30 the information was given – departure Wednesday morning at 6.00 from the hotel. Signe and Jesper did not sleep that good the night as the excitement for the trip now really came on.
Wednesday morning at 6.00 departure from the hotel. Short bus ride to the airport . They were here informed to leave their hand luggage in the bus and just take their phones and money into the airport building as they would get back to the bus afterwards. They went into the airport and security (easy without their main hand luggage!) then into the departure area. Unfortunately came information that the flight would be four hour delay due to technical issues with the flight. Some hours later the group could leave the departure hall and go down to the waiting bus and their hand luggage – then a short ride to the enormous flight. Up the small metal staircase and Signe and Jesper found a nice seat inside the cargo flight.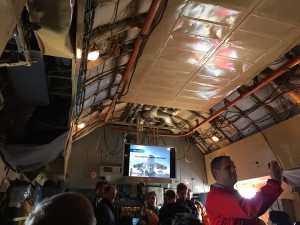 There were seats for some 40 people while rest had to sit on some folding chairs along the flight side at the further back. The noise was incredible but the flight could be followed by a monitor in front of them. The service from the East European crew were fantastic and the 4,5 hour flight went very fast.
Finally the flight was ready for landing and on the monitor the mountains were visible and soon after the huge flight landed on the 9 km ice landing road and when breaking with the four engines the noise was incredible.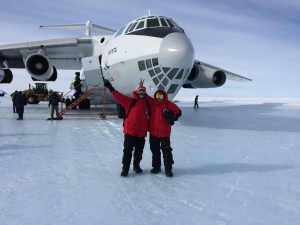 The door opened and immediately the extreme cold wind came into the cabin – it was time for Signe and Jesper to set their feet on the Antarctic! How it will be possible to run 42 km in this weather???
The obligatory pictures were taken and then it was time for the 8 km drive to the base camp at Union Glacier. When leaving the big American trucks Signe and Jesper get surprised. There is no wind at all at the base camp and with the sun shining it is almost a nice temperature – especially in the heavy cloth. The staff introduces them shortly to the camp and invites them in to the restaurant tent – which is open 24 hours and where it is always possible to get something to drink and eat. Signe and Jesper find their tent on the overview and soon after they are on the way to "check in". On the way they take their sleeping bags which are packed in huge bags.
Their tent is almost at the last row and has a beautiful mountain at the back but from the staff they know that there is almost 2 km to the mountain and the distance is extreme dangerous to move into.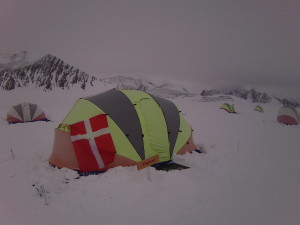 First thing to do? Get the Danish flag on the tent – nobody shall be in doubts that the Danes has arrived! Due to the sun it feels in fact rather warm inside and the mood of the new Bornholm Runners are high – it is time for dinner which is prepared well by the staff at the camp.
After dinner  a new run briefing takes place and the organizer already
warn the runners that most probably the run will not take place as expected the next day as Thursday weather forecast promise cloudy and low visibility. Especially the visibility is important as it else can be difficult to see where you run.
Signe and Jesper go to bed just before midnight – strange as it is still daylight but already cloudy.
Jesper wakes up after some hours and can hardly feel his arm – after some time he realize that it is because it is so cold. He takes the arm into his sleeping back and slowly get warmed again. This is the first sign that it is really cold outside as well as inside. At around 7.00 Signe and Jesper wakes up and realize that there is snow/ice on the inside of their tent. The water bags they took to the tent some hours before is totally frozen. They now realize that temperature might be around minus 5 or below inside the tent. It is therefore a very cold experience to move out of the very nice and warm polar sleeping bag and take on the very cold polar trousers and jacket. Luckily it doesn't take many second for the cloth to be warm and soon they can move over to the toilet buildings. Toilets at Antarctic are a history itself. As everything has to be moved back to Chile means that all remaining has to be as divided as possible – meaning a place for liquid and none liquid!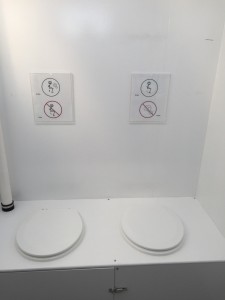 No water (and no heat) at the toilets but you clean your hands in cleaning gels.
Now it is time to breakfast and to hear what the decision for the run is.
The run is postponed until Friday where the weather forecast shows sun but also strong wind. It means a full day for photographing for the coming Antarctic runs as well as some social time with the runners – not to forget some card games.
Thursday evening rather early to bed as the forecast is rather clear that the run will start Friday at 12.00.
Signe wakes up around 6.00 am and goes to visit the toilet. When she is back Jesper does the same. When he comes back to the tent Signe informs that she is not well. She is shaking of coldness but has sweaty hands – this is not good sign for the coming run. Jesper suggest going and getting some warm tea with sugar as it might help. They get dressed and soon after enjoying some warm drinks and Signe slowly get back her color in face.
At 8.00 it is time for breakfast and soon after the staff comes and confirms that the Antarctic ICE Marathon will take of at 12.00. They also inform that the weather forecast is good – sunny and temperature around minus 16C but for a five km part they will have very strong head wind of some 50 km/hour and it will feel very cold. After that a 6-10 km run with the cold wind from side and back. The advice from the staff is to be very aware of the cold wind and also trying not to be too warm when running with the wind from the back.
Signe and Jesper goes around the doctor station to get Signe checked and here is the information that it is a rather normal reaction after the long journey and the excitement. The doctor suggests taking it easy and just enjoying the run.
It is then time to relax a little bit in the tent while taking a little bit about the coming run. Signe and jesper agree to run after a schedule of 7 minutes per kilometer which will bring them to the finish line around 5 hours – most probably a little bit more if the speed goes down at the later part.
An hour before start it is time to take on the first layer of sun protection. It might be cold at Antarctic but the sun is shining with a strength which can give severe sunburns. Therefore two layer of factor 50 is necessary in face and other places not covered during the run. After the sun block the two Bornholm Runners start to get dressed – several layers of cloth is necessary to be able to handle the heat from running and the extreme weather conditions.
15 minutes before start Signe and Jesper is ready to leave the tent and soon after they join the other runners at the start area. It is time to arrange one team picture in a ring with the camera in the middle.
12.00 with a drone hanging over the runners the start go on. Signe and Jesper start slowly but well positioned in the group of runners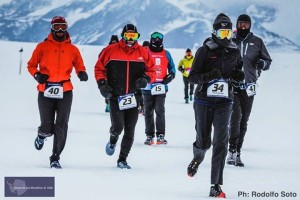 The first 4 km goes very well and it is almost a pleasure finally to have the race going on. They make a small turn and after another 1 km suddenly the very hard headwind hit them and they realize that it is not going to be that easy. They can see the first station with hot drinks but every meter is a fight against the win. At the station they take fast some warm water and then move forwards now with the wind from the side and later from the back.
Even it is very early in the run it is amazing how the weather conditions have made the group of runners divided.  The landscape is incredible and the colors of the ice on the mountains are amazing.
The 10 km long straight part up to the next manned drink station is like a never ending part. Due to the snow it is very difficult to imagine the distance. The strong wind has made the surface like running in sand on the beach.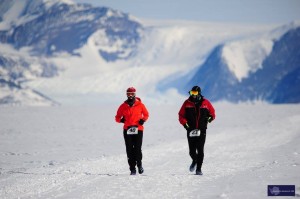 They arrive to the station at around 16 km and get some warm drinks to warm their cold bodies. Short after Jesper is ready to run again and he asks Signe if she is ready? "I am done – I cannot run anymore" is the choking answer – Signe has used her resources and suggests that Jesper just continue by himself. As a good Bornholm Runners team mate Jesper of course informs they will do this event together – no way of leaving someone behind. Therefore they start to walk/slow run the rest of the run and Signe fight against her lack of energy resources and after passing the start line they start the last 21 km and it becomes even colder when they again hit the cold head win as they now are wet in their first cloth layers.
The slower speed on the other side gives Signe and Jesper some unique possibilities to take many photos from the surroundings.
After almost 7 hours they can see the finish line and they get the flag out from the pocket and with the Danish flag between them they pass the line in 7 hours and 2 minutes. Denmark has got the first female Seven Continent Marathon runner and third male.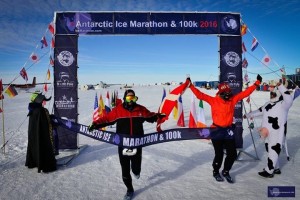 After finishing the run it was time for a hot bath. On Antarctic a hot bath means you have to take a bucket and wait really long time for the system to melt the snow into hot water. After some 15 minutes you got perhaps 10 liter water which you can add some snow – giving more water in a good temperature. Then you take the bucket into the bath area where a pump brings the water into the shower. All in all you have warm water for a bath of approximately 2 minutes – not exactly a option to just relax under the water but just hurry up to wash hair and body. Then get dried as good as possible and back in the polar cloth and out in the cold weather and run to the tent.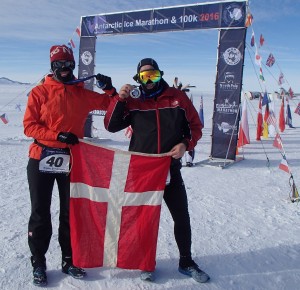 After the shower it was time for some warm dinner, a beer and a lot of talk with the other runners.  Already during the evening dinner the staff informed that it was almost for sure that the flight back would be minimum one day delayed as the weather for Saturday was too windy for the big plane to land. They were informed to just come early to breakfast to have confirmed that no reasons for packing their stuff next morning. Plans for the coming months were discussed and at 23.00 Signe headed towards bed after an emotional day. Jesper continued talking and having an extra drink with especially the new friends from South Africa and Australia.
Around midnight the suggestion came to make a cool down run. Jesper were asked if he was in – of course the Bornholm Runners was in. Ten minutes after he was dressed in his singlet and start number as well as running shoes —- it was time for the first "naked run" at Antarctic!  Five men went out of the base camp and side by side they ran towards the finish line. Amazing to run after midnight and still in nice sunshine but certainly also temperature below minus 20C! Most of the remaining runners and staff waited at the finish line and it was time for a special version of the mannequin picture (still picture). Then back to the tent and get some warm cloth on and short after the entire team of runners went to bed and nice dreams after they all finished one of their dream runs.
Saturday morning started as expected with the information that there would be no flight arrival this day. For Signe and Jesper it meant that the first of two tickets from Punta Arenas to Santiago were lost but still they could manage their Europe flight if they could get out from Antarctic next day Sunday. It became a day of relax and playing various games at the base camp. Volleyball net was sat up and the special snow bikes were busy most of the day.
At 18.00 it was time for one of the major celebration of the base camp – opening of the new toilets. It took place with speeches and champagne!
Straight after the opening of the new toilet buildings it was time for the Antarctic ICE Marathon to celebrate the winners of the run. Gary Thornton from Ireland won as expected the men race in 3 hours 37 minutes and 13 seconds – fast on these conditions but for a guy who has been running a marathon in 2 hours and some 17 minutes most probably all of the runners expected a new record race for the Antarctic ICE Marathon but that did not happen this time. For the women race we had the fantastic pleasure of congratulating Joanna Medras from Gdansk as the winner in just over 6 hours.
For Signe and Jesper it was difficult to be patient during the celebration ceremony as afterwards the 15 new members of the Seven Continent Marathon Club should have their extra medal hereunder Signe and Jesper.
Hereafter it was time for taking some more pictures – now with two medals around the neck! They now had the proof of the membership of Seven Continent Marathon Club!!!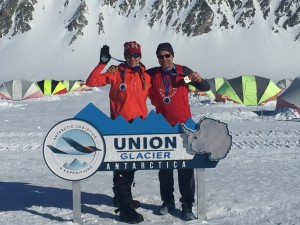 Sunday morning the information came – the huge cargo flight had been taking off from Punta Arenas and it was time to pack all the stuff and leave the tents. In the afternoon the transport of the runners began in two shifts and the first one would be freezing at the area of landing zone but would have a chance to see the flight landing. Signe and Jesper enjoyed the warmer weather at base camp and took one of the last cars to the flight. It was with mixed feeling they finally crossed the ice area to the flight and start the journey back home.
After another 20.000 km travel Signe and Jesper came home to friend and family as well as contact to various media.
It was now time for Jesper to follow up on the fund raising agreements he signed before the trip to Antarctic.
On behalf of Bornholm Runners it is with great pleasure that we can inform that the following sponsors donated for Gdynia Children Hospice:
JS Hamilton Poland       PLN 10.000
                Berendsen Poland         PLN   3.000
                Wlodek Kwiatkowski    PLN   2.000
                FUSAO, Brazil                   Euro     500 (PLN 2.250)
                Biocartis, Belgium (employees) Euro 320 (PLN 1.440)
All in all more than PLN 18.000 transferred to support the children at the hospice. THANK YOU SO MUCH
Bagan Temple Marathon, Myanmar November 2nd 2013
30 October at 12.00 we met the other 24 participants and the guide from Albatros Travel at CopenhagenAirport.
Soon after we checked in and just had to wait for our flight.
Due to crying kids we did not get much sleep on the 10 hour long flight to Bangkok and later 1, 5 hour flight from Bangkok to Yangon.
Day 1 in Myanmar, Yangon – 31.10.2013
We arrived to Yangon at around 6.00 a.m. local time. We knew that it was going to be a long day caused by jet lag and tiredness after long trip.
After some minor chaos with handling over passport, immigration papers and the pre-prepared visa application we finally got our passport back and could pass the controls. Luckily all our luggage also had arrived so in fact no reason for carrying all our running gear in our hand luggage the entire way. Our local guide was waiting us and short after our group of 27 persons were in the bus and on the way to the hotel.
At the Traders Hotel only part of our rooms were ready. We got our room and after a short shower we felt a little more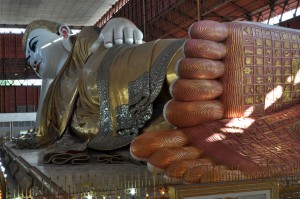 awake and went to the reception at 13.00. We went with the bus to the lunch break where we also for first time tried the local beer called Myanmar. After a stressing lunch when we had less than an hour to finish our meal we went by bus to a temple where the 67 meter long, South Asia longest statue of Buddha is laying.
After a walk of some 100 meter we even managed to find a toilet. This was at a private house with separate toilet for foreigners – most probably this was the toilet with sitting option but no toilet paper! Now we understood why the left hand is called the dirty one! Well good we did not have such need!
After another drive – when most people felt asleep – we stopped at the Shwedagon Pagoda – the most important religious pilgrimage site in the country. Local authorities claims it is more than 2500 years old when experts say that it most probably is built around year 600. It has 8 corners – one for each day a week. Wednesday is counted as two days in Buddhist calendar!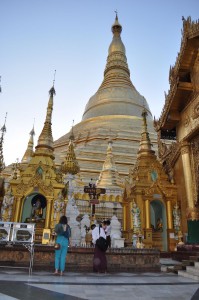 On the picure: Greta lights a light at the Monday corner – she was born on Monday.
Buddhists are coming to pray at the corner of their birthday's day of the week. It is the most holy place for Buddhists in Myanmar as three things from the first Buddha is here: his walking stick, eight hairs, and part of his dress. On our way around the fantastic building Greta and Jesper were stopped by two monks who were practicing English with help of English-speaking tourists.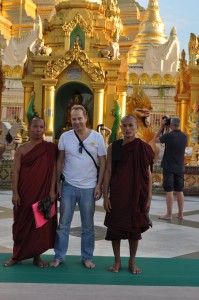 They asked where we came from and also wanted picture taken with Jesper. Surprisingly they shook hands and openly talked also with Greta but could not have a picture with woman.
After an hour walking on our bare feet at Golden Pagoda we again went back to our bus. It was time for a nice dinner.
On our way back to the hotel we stopped for a while in front of the Lady Aung San Suu Kyi's house. It is now empty as the Lady has moved to the new capital Pyinmana which are the political center in Myanmar.
At around 20.45 we were back at the hotel and short after sleeping – finally.
Day 2  Bagan – 01.11.2013
Alarm clock waking us up at 03.30! Showering, packing the last and at 04.30 sitting in the bus with breakfast box on our way back to the airport.
Luggage have been delivered to the airport, we went through security check.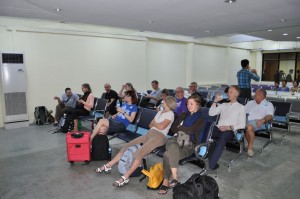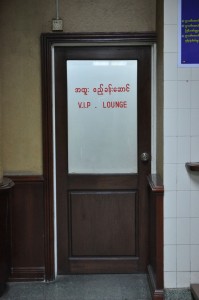 No comments to liquid and electronic equipment.  Pictures:YangonAirport
No comments regarding liquids in our hand luggage. No call out to the gate. Just we have got a label on our T-shirts showing the logo of the company we should flight with. Later we got our boarding passes to the Bagan Air with departure 06.15 meaning 06.45!
Serving on board: first a drink and a small meal including Danish pastry with coffee and tea and some sweets before landing at 08.00!!! Who could see such a luxury on short distance flight in Europe?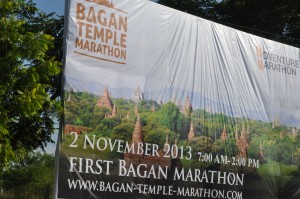 We were picked up by an old bus and went the 30 minutes ride to our hotel Myanmar Treasure in Bagan. On our way most probably all of us got goose bumps when we saw the enormous street promotion for our marathon.
After unpacking our stuff we went shopping on the local market. We bought water, bananas, local home-made sweets of sugar palms and nuts.
Late afternoon we took the bus to see the sunset from one high Temple. It was a real climbing as some steps were 50-60 cm high and Greta wore long dress. We got some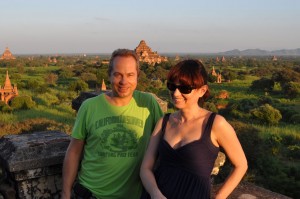 amazing pictures from the top!
Then time for dinner and getting our start package. Greta got number 203 and Jesper 12!
Back to the hotel and trying finally to get some sleep before the big day.
Day 3– Bagan – The Race day- 02.11.2013
After a night waking up several times just to check what time it was the alarm clock rang at 04.10.
Time for a banana, some water and get dressed. A light breakfast at 4.45 and at 05.30 we were all in the bus and on the way to the start area. Soon after we could see the impressive HtilominloTemple where both start and finish should be.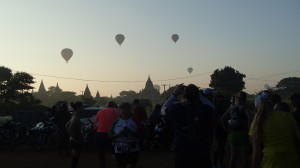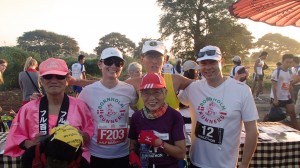 Some small talk with other runners, pictures with Japanese
and Danes – we were ready. Sun came up behind the temples and the same did some 7 big balloons – stunning view in the rising sun. Unfortunately picture does not show real colors and nuances of light pink on the sky.
Around 06.45 we were asked to go to the starting point and  were short welcomed by the minister of Tourism and Sport from Myanmar. Then we ran our distances. That is a pity that we could not start the run already around 6 a.m.; to avoid the whole hour of boiling heat from the sky.
The run:
We started to run through the sandy path among bushes and fields with many temples around us all the time through the first 20 km. Just after one kilometer from start line we realized first challenge a "river" of mud. We were forced to jump over the deepest water. The result – wet mud in socks! Soon after some sandy area Jesper could feel that wet mud and sand was mixed in his shoes – at this stage he realized that Bagan Temple Marathon was not a regular one!
Passing a corner and you had to stop for an oxcart- with the long horns; they for sure had the first right to pass. Several local people inclusive small kids were already out along the route.
Around 11 km it was time to divide the routes and Jesper ran after the black arrows indicating full marathon. It was going through agriculture area and small villages.
Roads surface were gravel or deep sand!
The temperature became over 35°C and in direct sun even over 40°C.
One of the most impressive experiences was a very small village where all people sat outside smiling and waving! During the run we have learnt to say "hello" in Burma people language. It is pronounced: "minga laba". The worst was the village "highway" – 15-20 cm deep sand and together with the heat it was like hell.
At that stage (even after only some 18 km) Jesper had no energy to run and by walking fast the time lost would be minimal.
When the route was not sand slow running was possible but the last 15-16 km it was really just walking with significant pain in right foot as a sign that big blisters was on its way.
When having 6-7 km left the marathon route again hit the half marathon route as a sign that this run soon would be over. When having few hundred meters left Jesper could see Greta waiting at a corner playing cheer leader.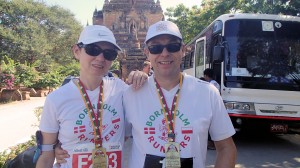 Here came the last corner around the HtilominloTemple and to the finish line – with the last forces and biting the pain the last 250 meter was done in running. Passing the finish line and finally feeling the weight of the impressive medal. The run was done.  5 hours 55 minutes it took Jesper to become number 31 of 44 finishing men at the marathon distance. Greta ran her first half marathon in 3 hours and 40 minutes and finnished as number 34 of 38 participating women but most probably the one with most pictures in her camera taken on the route
Greta was amazingly fresh and happy after her first half marathon. For sure her 5 time per week training during 6 weeks before the run helped to build her general condition. The hardest for her was the last kilometer.
The day before the run we talked about clothing on the route. In fact there is no good clothing when is that hot; does not matter how little cloth you wear. After 5 minutes run all was wet. For sure our white technical T-shirts, white hats and sun blocker 50+ helped to fight sunburn and cold water every 4km helped against sunstroke and water loss on the way to finish line. Greta used cold water on her neck every 4 km. It gave cooling effect together with cold energy drink. It is worth to mention that Endomondo application worked on the route in Burma and helped to keep control on the route with time and distance.
It was extremely hard for both of us to move quickly during the run. High humidity and temperature over 40 degrees made the strong impact on all the runners.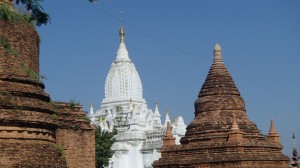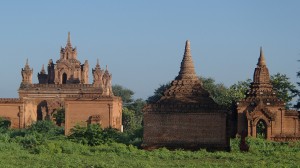 Greta made plenty of fantastic pictures which we now can share with others.
Last runner from our group crossed over the finish line just some 3 minutes before cut off time!!!
We came back to the hotel for showers and to check injures of our feet. Taking care of blisters hereof one some 5 cm in diameter straight on the heel!
We have sent e-mail with information to kids and friends.
The evening went on swimming in the pool, enjoying beer and other liquids and relaxing talk with the rest of the group. We have learned that some runners received water with electrolytes directly to the veins through the drip; some have got stitches after fall and other were suffering from the heat and strangling with the distance.
Anyway most of them were happy that they managed to reach to the finish line. Nevertheless running experience all runners were going with strange manner because of pain in hips and legs muscles.
We went early to bed after long and active day.
Day 4 Bagan– 03.11.2013
We refused to go for a planned trip and slept to 8.00 a.m. then ate breakfast and got some relax at the poolside. In the afternoon we went to the village for sightseeing and lunch at a local restaurant Green Elephant. On the way back we met 3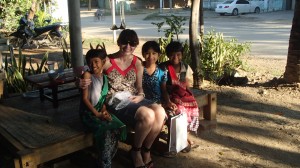 kids and after some pictures and nice talk we had to buy some homemade postcards for one dollar to each kid.
In the evening we had the after-run victory dinner party. The party was a great event with speeches, shows, food and a free bar.
All top 3 runners came from Myanmar and Greta managed to get a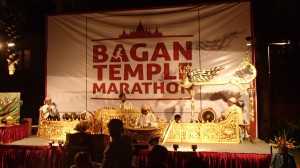 picture of Jesper with all the fantastic local runners and the Sports and Tourism Minister of Myanmar.
Together with some Mexicans and Americans the Danish group was the last to leave. We were dancing until 1.00 a.m. Before sleeping we packed a little bit to be prepared for leaving next morning at 8.00 a.m.
Day 5  Mt Popa – Mandalay- 04.11.2013:
We stood up at 6.00 a.m. to say goodbye to people from our group who ended the trip already that day and should go home to Denmark, Sweden and Norway. Then we packed and ate breakfast.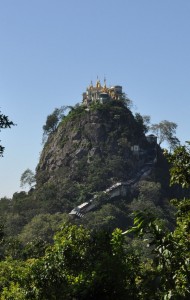 Around 8.00 in the morning we left the hotel for driving to the holy Mt.Popa – some 777 steps with a lot of monkeys sitting aside the whole way up to the temple on the top. Here we should walk up the stairs with bare feet – for sure healthy for our suffering feet with the monkey shit on the stairs! View from the top of the hill were fantastic!
Before we entered the temple we got to know that Buddhist life has three stages: education, create family and finally the religious part. Therefore there are that many temples in Myanmar. All believe that if they build temple – there shall be bigger chance to be closer to nirvana stage, which means less reincarnation stages.
At around 13.00 we ate the lunch at a small local restaurant where near the house grow dragoon fruits on cactuses. Afterwards we continued our way to Mandalay.
Generally the countryside was very green and people looks to live a silent modest life at their small farms.
On the way to Mt Popa we have had one stop at a place where alcohol and sweets are made of sugar palms and nuts.
Day 6 – Mandalay, Amarapura 05.11.2013: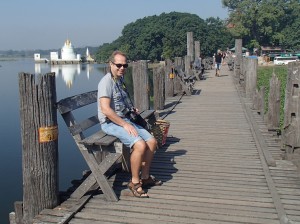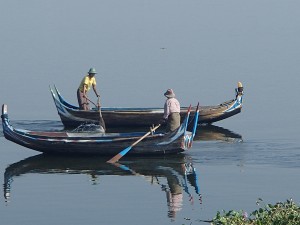 At 8.00 we should leave the hotel with a bus. It could not start. We went by two trucks for visiting the world longest teak bridge U Bein with its 1,2 km length and more than one hundred years old.
We were spectators to the morning ceremony of giving the only meal to monks from the Mahagandayon Monastery where there is place for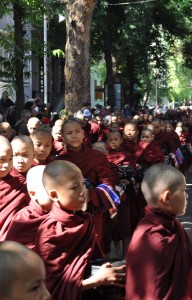 more than 1000 monks and nuns…..
Then we went to the Mahamuni Temple and Kuthodaw Temple with the world largest book in form of Buddha's words written on 729 stones each of them put into a white alter.
Hereafter we went to the AyeyarwadyRiver where we got some gorgeous pictures of the people living at river side.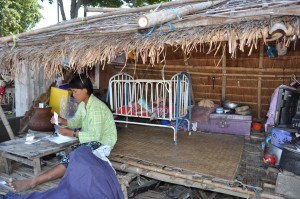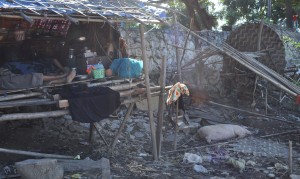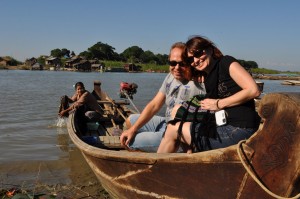 They received in the past plot of land but instead of settle down they sold the plot and moved back to their life around the river.
At the end of the day we went to the Mandalay Hill where we could admire the sunset. Escalators took us up on the 5th floor and the view was great.
The evening we spent packing and went to bed without dinner as the monks
Day 7 – Inle Lake 06.11.2013:
Up at 4.30. Breakfast at 5.00 luggage out and ready to leave the hotel at 06.15.
Flight Mandalay – Heho was a good experience with a very nice service aboard.
At Heho airport the bus drive us to the marina at the beginning of Inle Lake.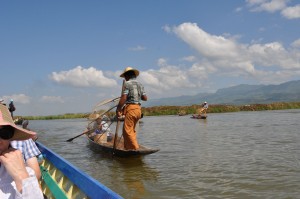 The fishermen have a special way of rowing – they stand up and use their leg to navigate the boat! This way they have both arms free.
It was amazing to see how people lived in houses on piles
and working in their floating gardens. Here they grow vegetables – such as tomatoes and wild potatoes.
We visited a silver smith and after that a weaving manufactory which has been family own during generations
At around 17.00 we arrived to Amata Hotel where our motor-powered canoes were parked.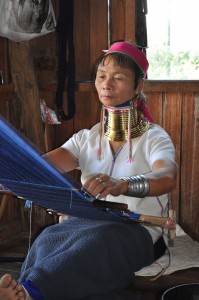 We were now a part of boat no. 5 crew with Signe and Michael. We ate at the hotel and went early to bed.
Day 8 – Indein by the Inle Lake 07.11.2013:
Up at 6.30 to have breakfast at 07.00. The boats picked us up at 08.00 and first stop was the village Indein at the west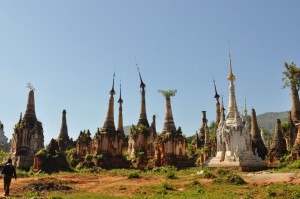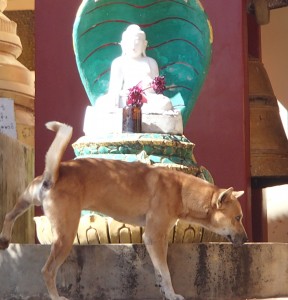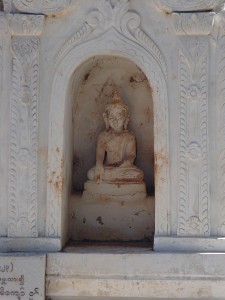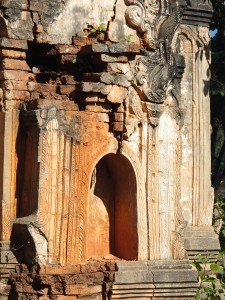 bank of the lake where some 1050 pagodas were standing next to each other giving us some fantastic pictures.
On the way back to boats we did some shopping and talked with all the nice people.
Our boat was the last to leave but short after we found two our boats standing on sand.
Tage and one person more tried to help getting boats sailing again by jumping in the water. Later we were told that on one boat propel fall of and flew into the boat and made marks on the side and at one chair!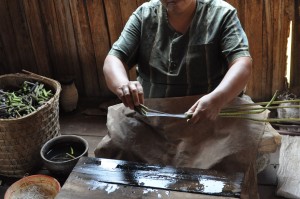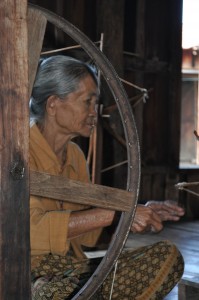 Next stop silk production place. Family owned business and we saw how lotus stalks were changed into tread.
Imported silk was prepared and coloring was done in chemicals without protection on hands. After this it was time for lunch. Before leaving we went looking at some nice lotus flowers.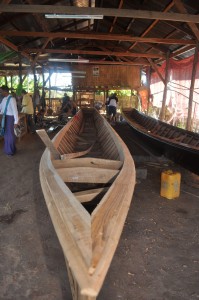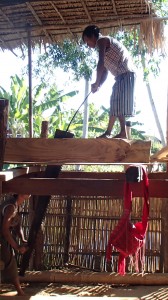 It was time for some sailing among the village before having a stop at the boat yard. One boat of teak cost only 1500 USD.
Next stop cigar manufacturing
Back to the hotel and relax with a book.
Most of our group has at this stage had serious problems with stomach so we decided for a light dinner with sharing a pizza. We ordered green tea and cola. We asked for a pizza Margarita to share. The waiter went off and came short after back asking if we were ready to order food??? We told that we ordered already the pizza – then she ran away. Most probably she understood that we wanted the drink Margarita to share
Early to bed after packing most of our stuff.
Day 9 – Kalaw  08.11.2013
Alarm clock rang at 5.00 and after putting our suitcases out we could leave for a light breakfast.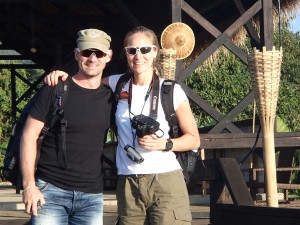 At 7.00 we went into our boats
Our crew members Signe and Michael was also ready for new adventure.
Our morning return trip to the main marina took around one hour.
After a short bus drive we arrived to the train station where we should have a 2, 5 hour experience with Myanmar fast train!
Our local guide managed to convince the train station manager that we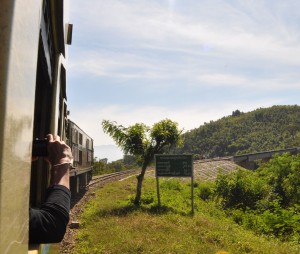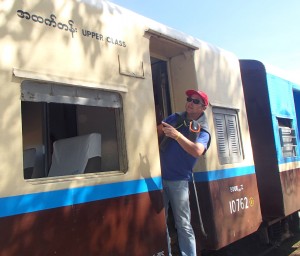 deserved the very best – meaning here journey in "Upper class" compartments.
Very narrow and curvy rails we had to be careful when taking pictures out of the "windows". In Heho we had a break to buy some stuff for rest of our trip.
The train rocked us well and we felt like being sailing on Baltic Sea in stormy weather!
After the train trip the bus picked us up and drove us to the very last Pagoda on our trip around Myanmar.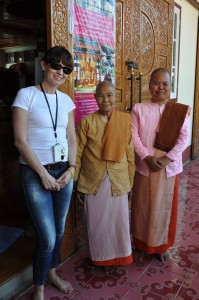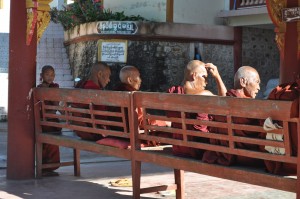 It was now time for Greta to meet the local nuns
when the monks try not to look.
Then to Kalaw – a very colorful small village with English colonial touch.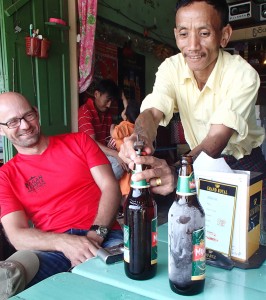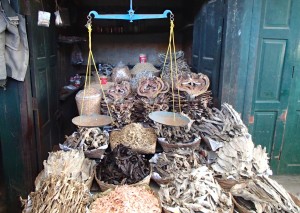 Here we visited the local marked with food, textiles etc. Later after visiting the local market we enjoyed the really cold local beer in a small teashop with the company of Signe and Michael and were looking at people passing through.
This night we stayed at Dream Villa at Kalaw. We might have dreamt but certainly the hotel should change its name. Room was cold and beds hard like rocks.
Day 10-12  Ngapali Beach – 09.-12.11.2013:
Up at 5.00 a.m., bus at 6.15 and departure for HehoAirport.
Finally our lazy days on the beach started that day! NgapaliBeach waited for us!
Look at the pictures – no words are needed to explain the last 2,5 days
She served us coconuts every day. We called her Fruit Lady or Restaurant on the Head. Jesper tried to lift the tray with fruits – it was very heavy and that little lady could carry it on the head without help.
Our trip was over and on November 12th we went back to Yangon. Later via Bangkok, Copenhagen to Gdansk.
Myanmar (Burma) is for sure one of the most nice countries we have been visiting and people just amazing.
Travel greetings from Greta and Jesper
Polar Circle Marathon, Greenland 2012
18th October 2012 (Thursday)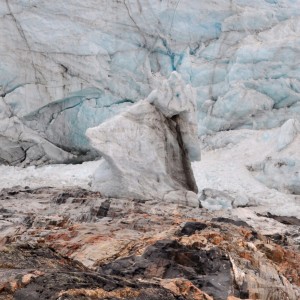 In the morning Greta and I arrived to Kangerlussuaq and right afterwards we had time for a 25 km trip to the impressive Russel Glacier. Imagine an 800 meter wide and 60 meter high glacier just in front with stones in the most artistic colors and shapes. With good imagination it was even possible to see a mammoth!!
This master piece (to the right) is a part of the icecap breaking of and for a while it will be standing like this and early next summer it will melt and go into the seawater.
19th October 2012 (Friday)
This was the day of race inspection. In bus-like trucks and one yellow American school bus we started our journey to the start line some 34 km away from our hotel. It had been snowing during the night and at the first hill the yellow bus had problems and needed assistance from one of the military trucks. After 16 km  We passed one of the three American military airplanes which fell down in 1968 after not being able to land due to heavy snowstorm and electricity breakdown in the airport. After almost 50 years on the ground the spread metal pieces are still without any sign of corrosion due to the constant low air humidity.
After 21 km we made a stop to see the finish area for the half marathon runners. At this stop we also saw two 400 years old graves where persons were covered by stones in sitting position!
Most scary was the high hill straight after the half marathon finish line – there we would  have to run up and up!
We went further on our drive and passed the start line. A little bit later the busses stopped – approximately 3½ km from the icecap. There we had a break so we could walk up these 3½ km which more or less was one big hill up to the enormous icecap. Then 2 km round on the icecap where instructions were clear- keep right of the marks.
After that check-tour we went back to the hotel and the evening pasta party. Outside it was snowing so most of the talk during Friday evening was about how to be dressed for the Saturday run?
20th October 2012 (Saturday) – The Run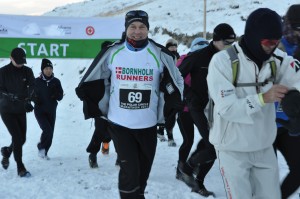 Saturday morning – I got up at 05.30 – but honestly I did not sleep much and well that night!
A light breakfast and then fast out to the busses to make sure we were not going to drive in the yellow school bus! Greta and I went into a red truck and thought the trip to the start area would go without any troubles. After few minutes' drive we found out that there was no heating in that car either. So almost two hours drive in something like 0˚ C – killed the excitement for the run!
Finally we were near the starting point and it was time to put on the spikes (rubber elastics with spikes to take around the running shoes). Then the driver opened the door and I got out ——- damn it was cold (minus 16!). We were informed that start would be in 12 minutes and a last fast decision – I decided to run in my fleece jacket and therefore my start number would be hidden.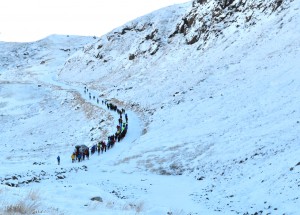 Finally the shoot from the hunting gun started the race. Almost 130 runners from 29 different countries started to climb the 3½ km hill up to the icecap when Greta and some few other supporters went back to the hotel by one bus.
If it was cold at the starting line it was nothing compared what met us on the icecap. Although it was a beautiful sunshine the wind made us freezing to the bone. It was also very windy and snowstorm so in one minute you ran on ice and next in snow up to the knees.
Some pictures to be taken and then as fast as possible down from the icecap and starting the approximately 34 km run back to the finish. The run back was on a "road" built some ten years ago by VW. VW used the road to transport new car models approximately 120 km onto the icecap for test driving hidden from the press.
After some years this form for testing became too expensive and the roads slowly started deteriorating. From that  moment snow and small stones were the surface for the rest of the race!
Every five kilometer we could get some cold or warm drink and I can ensure you that it was mainly warm drinks which were taken!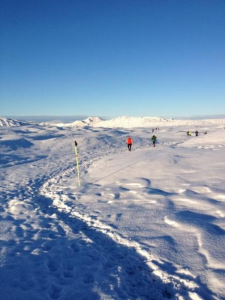 The above mentioned terrible hill at the end of the half marathon was the second nightmare and not possible for me to run up. Halfway up stood the bus for runners who finished the half marathon– it was like putting sweets in front of a kid! At that time approximately 70% of my brain told me: "Look! A bus which could bring you back to the warm hotel"!
The 20 km drink serving was even situated just three meter from the bus – but after an energy bar and a drink I let the 30% brain explain to me that the bus for sure would not be heated.
Rest of the race was just a hell and I had to walk several times when the hills else would have given me serious troubles.
After 39 km I finally saw the last 1½ km hill which would bring me up to the top from where I knew I could see the airport and hereby the finish area.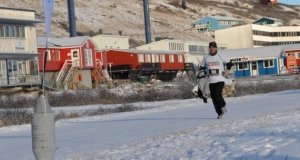 The view from top of hill I will not forget – not that it was very nice but I knew at this point that I would manage to finish.
When crossing the city mark (if you can call this place a city with only 500 inhabitants who more or less are airport staff) I started to undress from my fleece jacket so start number and "Bornholm Runners" would be visible when crossing the line.
Soon after I could see Greta waiting –her proud face and voice will for long be remembered – and it was time for the photos.
After some fast photos there was only 50 meters left to cross the fantastic looking sign: "FINISH". Great to hear "your name, number, nationality and congratulation for a great run" – but most of all to get the medal around your neck straight after crossing the line!
My time of 5 hours, 35 minutes and 19 seconds as well as being number 58 out of 71 men – that was absolutely acceptable for me.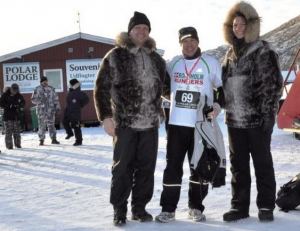 Just before going to Greenland I managed to finalize the idea of Bornholm Runners and the evening before departure the first sponsor signed in. Therefore besides finishing of the marathon I also ran in PLN 4219.50 of sponsor money which will be given to children with cancer at Gdansk Medical Academy on the December 6th as a part of the rules of the running club.
21st October 2012 (Sunday)
Sunday was a day of relax. Greta and I went out for a 10 km walk (yes, you have read correctly). Here we saw some nice dogs which Greta immediately fell in love with.
In the evening we had the celebration dinner and afterwards we had the fantastic opportunity to admire the aurora borealis (northern light) in all its splendor and lights. That was as absolutely amazing end of a great long weekend!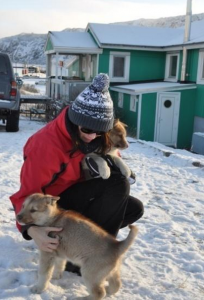 Now I am ready for finding my next marathon but also to find some more club members. Club members who plan to run half or full marathon and who would like to present the Bornholm Runners and hereby generate sponsor money for kids suffering cancer.
During this fantastic event we met new friends from many countries but especially we talked a lot with two couples from Austria and Brazil. We already talk about a marathon in Brazil in the rain forest!