For first time ever we had 10 members of Bornholm Runners participating in the same event!
Saturday we had our two youngest runners Selma (5 years) and Olivia (9 years) running the children event. No doubts that with the activities we see from these two young girls from Bornholm we have secured the future long distance runners 🙂
After the kid run most of us met at Mormors Cafe at Bredgade. Some coffee and cakes from our Grandmothers time were enjoyed and then we moved to Rikke and Caspers home. Here Rikke had been preparing a real Pasta Party and we all had a great time and almost forgot we were going to run the Copenhagen Half Marathon the next day.
At 11.15 on Sunday September 18th more than 19.000 runners started the Half Marathon. From Bornholm Runners we were: Signe, Mark, Daniel, Darren, Casper, Klaus, Kim and Jesper!
It was an amazing event with so much support from the people of Copenhagen who supported along the entire 21.1 km of beautiful Copenhagen.
This event brought new personal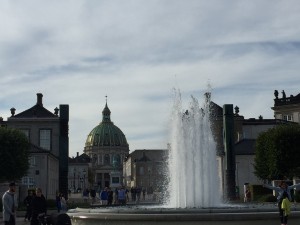 best for Daniel and Klaus as well as the family "fight" between Casper and his uncle Jesper again took place.
Signe and Jesper used this event as a training run for the coming challenge – Antarctic ICE Marathon – in November.
On behalf of Bornholm Runners I would like to thank Rikke and Casper for supporting with the Pasta Party and to all the runners and supporters for a great event in Copenhagen. I am sure that we are many who hope for a repeating event soon again where a run and social time between the members become integrated.