The family consisting of Greta, Jesper and the son Konrad – all members of Bornholm Runners  – used there summer holiday of 2016 by visiting Mauritius.
Main reason for visiting Mauritius was that Jesper still was missing to run a marathon on the African continent. Mauritius had the LUX Mauritius marathon on July 17th so fit perfect to the family vacation plans.
Arriving to Mauritius on July 8th there were some days first to enjoy the fantastic island and some nice sunny days at the beach.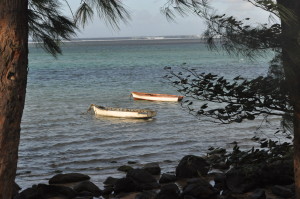 Up to the running date the weather got more and more windy and cloudy. The locals called it an anti-syclon and that is when the island get hit by heavy wind and rain.
The start package was picked up on Thursday before the run and that was also the first time to enjoy the amazing landscape the route would cover. Fantastic ocean views, green palms, sandy beaches and small villages should be covered.
Sunday July 17th the family took off at 5 am to be at the start area at around 6. It was still totally dark and only by support of cell phone lamps it was possible to move around.
The start was at 6.30 am at the main coast road – still rather dark and just after some light rain. Short after start it became daylight and more safe to run on the road. There were a little over 100 runners at the start but from 28 countries so very international run.
After 10 km the first really heavy shower came and Jesper and the other runners became totally wet and for the rest of the 42 km it was constantly changing between rain and a little sun. From approximately 26 km the runners made a U-turn and the rest of the run was as well against the heavy wind – making the final part even harder.
Konrad was waiting at about 34 km mark and even he was not signed in for any runs at Mauritius he shown his running capacity by running with his father the last 8 km and keeping his ability to move on.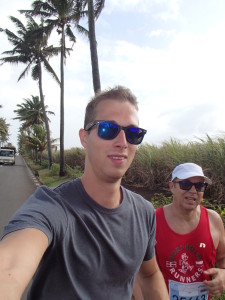 After some 4 hours 36 minutes and 26 seconds it was finally time for Jesper to pass the finish line at Saint Felix Beach.
Jesper ended at a 62 place out of 105 runners who made the full marathon in the hard weather conditions. Well supported by Konrad Jesper made his second fastest time ever. The best time is back to Brussels Marathon in 1990 so here 26 years later it is not so bad to be only some 16 minutes behind the ever best.
During the time Jesper ran his 6th continent marathon his wife Greta made her 10 km fun run. Even though she doesn't like to run on asphalt roads she became number 82 out of 124 finishing the run. Also here there were runners from many countries like China, Australia, Sweden and so on.
All in all the family had an amazing memory event in Mauritius,  a great time together as a family and at the same time promoting Bornholm Runners and hereby the aim of supporting seriously ill children in Poland.
Jesper will now focus on getting ready for his 7th continent marathon – which will be the Antarctic Ice marathon in last part of November 2016. Here Jesper and Signe – both from Bornholm Runners will try to fight on totally different conditions and become members of the exotic Seven Continent Marathon Club. Read more about this under stories and events. Beside training for the run under cold conditions the time will also be spent to find sponsors who will donate money for the children facing their hardest fight against various illnesses. Should there be any readers who would like to support the aim please contact Jesper by his e-mail: jesper.floyd.kristiansen@gmail.com or via contact on this web page.
We hope you will enjoy the pictures from Mauritius under Gallery.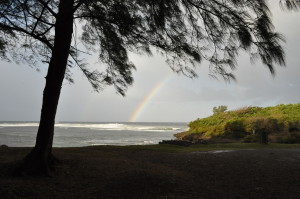 For sure the Mauritius Marathon is worth a recommendation and there should much more runners than actually is the case. This might very well be one of the world most beautiful marathon routes and with some great people supporting the runners on the way – and for sure thinking you are crazy to run that far on a Sunday morning – especially if it is raining!