Kim ran two marathons with only 14 days in between, on the 27th of September was it the lighthouse marathon which was the "short" distance in the ultra-race "lighthouse to lighthouse", where the route goes from the north point of the island of Bornholm (Hammerodde) to the southern most (Dueodde), and again on the 12th of October where the Championships of Bornholm, in marathon and half marathon, was held in Nexø on the east cost of the island. Both races were organized by the SAAN runners.
The lighthouse marathon was a fairly hilly route which ended flat the last 10 kilometers. The weather was good with sunshine all day, the wind was fresh with tailwind most of the way but with a headwind the last 10 kilometers where it was open country. The route was harder than he expected and Kim ran in the time 4:00:17 personal record by six seconds but completely drained of energy which is probably due to the hard pace at the start of the race which costed a meeting with "the wall" at about 35 kilometers. In the finish area there was great Bornholm Runners support.
At the Championships of Bornholm, Kim was competing in the "open class" at the marathon race, on a flat and fast rute on the southern part of the island 21,1 kilometers out and back again at the same route. Again the weather was brilliant with partly clouds and a little sunshine, the wind was calm the first part of the race with headwind and freshened up later when it was tailwind. Conditions was perfect and the legs was fresh and fit, and despite the usual: "a little too hard pace from the start", Kim managed to keep the pace until the last few kilometers and ran over the finish line in fantastic 3:51:15. The 15-day-old personal record was beaten with 9 minutes and 2 seconds. A great reunion with the race where Kim made his debut at the marathon distance last year.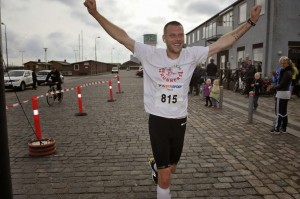 Next challenge is not decided yet, but we believe that there lurks a marathon in a not so distant future.
See Gallery for more pictures from the two run by Kim.