During the Athen marathon 2017 Mark, Kim and Jesper agreed to sign in for the Christiansø Marathon 2018.
Due to their early signing in they got the "magic" start numbers 1, 2 and 3. To accompany them Greta signed in for 1/4 of the distance.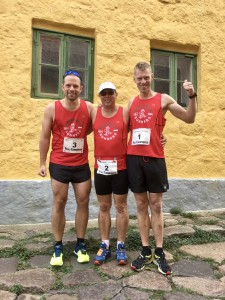 On September 1st 2018 all four took the small boat from Tejn (on Bornholm) to the small Danish island called after King Christian. Christians island is originally a fortress but today one of the must see attractions when visiting Bornholm.
The ferry arrived and were welcomed by a group of supporters dressed in t-shirt with the Danish flag.
The marathon on Christiansø is very special as it consist of 27 rounds plus 885 meter – on a changing and challenging surface.
Unfortunately both Greta and Jesper had to give up before finishing due to various injuries.
Mark and Kim gave each a good competition but at the end Mark took the Bornholm Runners Christian Island championship. In the full run Mark ended as number five in the time 4 hours 4 minutes and 47 second while Kim came in short after in 4 hours 13 minutes and 39 seconds.
After the run there were lunched served on the small restaurant and there was time to enjoy the amazing landscape on the islands before the boat took all back to Bornholm. In the evening the Bornholm Runners participants went for a dinner all together.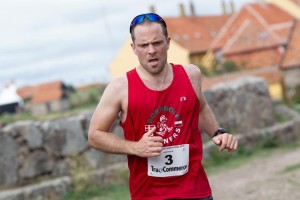 All in all a great and cozy event and Kim already signed in for the 2019 version and who knows  perhaps in uncle Jesper will do the same as for sure he would like to have this marathon on his "CV". Beside this participating in the Christiansø Marathon is a great opportunity to visit the island which is the reason of the name of Bornholm Runners